Please Support Cliven Bundy as the Politically-Motivated Obama-Reid Las Vegas Court FINALLY Brings Him to Trial! Cliven's Rights Are YOUR Rights – Make a Contribution to the Cliven Bundy Legal Defense Fund TODAY!
Cliven Bundy
is going to trial on October 30, 2017 and the trial, which is being presided over by a hostile handpicked political judge, chosen by the corrupt former Senator
Harry Reid
and nominated by former President
Barack Hussein Obama
,
has my client within her crosshairs.
The federal judge in the District of Nevada,
Gloria Navarro
, has already tried to subvert prior trials of Cliven's co-defendants. Here is what even the mainstream Las Vegas Newspaper had to say about the judge's unconstitutional and unlawful misconduct and the Obama holdover prosecutors that want Cliven's head because he and his family stood up to an Obama and Reid run federal government:
"Government prosecutors have a friend in U.S. District Judge Gloria Navarro.

The judge is presiding over the retrial of four defendants charged with various crimes stemming from their participation in the 2014 Bunkerville standoff near Cliven Bundy's ranch. The first trial ended in April with the jury deadlocked on all counts involving the four men.

On Monday, the judge eviscerated the defense's legal strategy, putting off limits a whole host of issues that might make it more difficult for the government to win convictions. The defendants will be forbidden from arguing that they were exercising their constitutional rights to peaceably assemble and bear arms. They may not highlight the actions of BLM agents in the days leading up to the incident or mention federal gaffes such as the ill-advised "First Amendment" zone created for protesters.

And if imposing these restrictions on the defense wasn't enough, Judge Navarro ruled that prosecutors may introduce testimony about the four accused men and their associations with so-called militia groups.

Judge Navarro made a similar ruling before the first trial. She is going to extraordinary lengths to address prosecution fears of "jury nullification," in which jurors refuse to convict based on a belief that the law or potential punishment is unjust. The practice dates to 1734, when a jury ignored statutes and acquitted publisher John Peter Zenger on charges of criticizing New York's new colonial governor, accepting arguments from Mr. Zenger's attorney, Alexander Hamilton, that the newspaper had simply published the truth.

Federal prosecutors have encountered unexpected difficulty – both here and in Oregon – in securing convictions against those protesting federal control of Western public lands. But the issue here isn't whether one believes the Bundy defendants are courageous freedom fighters or zealous lunatics. Rather it's whether a judge should usurp the rights of the defendants to have a jury of their peers consider their arguments alongside the law, evidence and other testimony.

Judge Navarro's sweeping order reflects a deep mistrust of the American jury system."


The reason that Cliven was prosecuted in the first place, after a successful standoff at the ranch which his family has ranched for over 150 years, is because Obama, that reverse racist, and his then equally reverse racist attorney general
Loretta Lynch
, took offense when he referred to his plight, in being persecuted by the government, as similar to the "Negro" in the old South.
Please Support Cliven Bundy as the Politically-Motivated Obama-Reid Las Vegas Court FINALLY Brings Him to Trial! Cliven's Rights Are YOUR Rights – Make a Contribution to the Cliven Bundy Legal Defense Fund TODAY!
Cliven is not politically correct according to leftist standards, and indeed, even the great civil rights leader,
Martin Luther King
, referred to his people in this way as Negros. Thus, Cliven did nothing wrong, but the hateful likes of Obama and Lynch, who see racism around every corner, then indicted Cliven for simply standing down Obama's and Reid's goons, after patriots flocked to his family ranch, armed in self-defense as was their legal right under our Second Amendment.
They had seen this treatment on Fox News and other conservative media and were concerned that the family's life was being threatened, Cliven's sister Margaret assaulted and thrown to the ground, his dog viciously kicked and his cattle killed and buried in a secret mass grave – all designed to drive Cliven and his clan off the land, so Reid could sell it to the Chinese or other interests.
It is likely that Reid and his crooked lawyer son, Rory – who was negotiating this sleazy deal – another Las Vegas mafia type, would then get illegal kickbacks from the Chinese when they purchased the land.
This whole affair smells to high heaven, yet even our new attorney general Jeff Sessions has buried his head in the sand and won't end this persecution of Cliven and his family. This, as I explain in my recent column on www.wnd.com, is because Sessions himself is under investigation by Special Counsel Robert Mueller over phony allegations of Russian collusion, and Sessions is on the defensive since the left, as occurred with Cliven, has repeatedly and falsely accused him too of being a racist.
Please Support Cliven Bundy as the Politically-Motivated Obama-Reid Las Vegas Court FINALLY Brings Him to Trial! Cliven's Rights Are YOUR Rights – Make a Contribution to the Cliven Bundy Legal Defense Fund TODAY!
I personally spoke with Sessions months ago and he promised to review Cliven's prosecution, but now he is nowhere to be found. This is typical of the Washington DC Republican establishment that is afraid of its shadow every time the left brands them as racist against African-Americans and others.
And that is why we need your urgent and strong financial support. Cliven's trial will last 3 to 4 months and I must be there to fully participate in his defense. In this regard, I am currently before the Supreme Court, asking it to order Judge Navarro – that biased judge – to allow me to be counsel of record, as she has thus far illegally kept me out of the case, as she obviously fears that I will wage a powerful defense of Cliven.
Doing Obama and Reid's bidding – the persons Navarro owes for her judgeship – Navarro is doing all she can to get Cliven and the others convicted. For Cliven this would be a life sentence as he is already 71 years old. But even if the Supreme Court does not put politics aside and order her to let me in as counsel of record, I can and will play a major role in preparing Cliven for trial, interviewing witnesses, working with local counsel on trial strategy and other important matters such as defending Cliven's wife, Carol, who Judge Navarro outrageously has also suggested on more than one occasion should be criminally charged.
This is in line with Reid having called the entire Bundy family "domestic terrorists."
In short, I must be there for months. This will be very costly.
This case is not just about Cliven and his family and the other defendants' right to bear arms in self-defense, but also about freedom of speech.
The Bundys did not harm a hair on the head of any federal agent
, yet the federal agents, and hired mercenaries, used brutal force to threaten their lives and beat the living heck out of them, not to mention destroyed their herd and thus the family's livelihood. And, the real kicker is that the federal government does not even own the land that the family ranches on, so the federal court of Judge Navarro does not have jurisdiction over Cliven. I am filing soon a civil suit to have a state court in Nevada to enforce its rights to the land, which was seized from it by the federal government to extort monies from ranchers such as Cliven, by charging them grazing fees and imposing absurd and unreasonable environmental restrictions which have driven hundreds of other ranchers out of business. Cliven and his family are one of the few ranchers left standing and they have been persecuted for standing up to an oppressive federal government then run by Obama and Reid, two hateful leftists who wanted to destroy ranching throughout the Western states.
Yesterday,
it was Cliven Bundy and his family who were brutalized.
Tomorrow
it could be you and your loved ones if we do not prevail at trial and show the federal government a legal lesson.
Please Support Cliven Bundy as the Politically-Motivated Obama-Reid Las Vegas Court FINALLY Brings Him to Trial! Cliven's Rights Are YOUR Rights – Make a Contribution to the Cliven Bundy Legal Defense Fund TODAY!
The Obama/Clinton Deep State still controls the Justice Department and its compromised politically leftist prosecutors, and attorney general Sessions are nowhere to be found.
Thus, we need your urgent strong financial support to win an acquittal after a bruising 3-4 month trial, and by doing so not only save Cliven but also the vision of our Founding Fathers, who declared independence on July 4, 1776, to seek redress from a despot as bad as Obama and Harry Reid, King George III, who committed unspeakable acts.
We fought a revolution to prevent this tyranny and now we must renew the republic by defeating the Deep State Obama and Reid tyrants at trial!
Finally, just in the last few weeks Cliven unsuccessfully tried to let go his local counsel because he did not adequately prepare for trial. I must now step in and work with the local counsel to prepare for trial and to wage a strong defense.
We must have the resources to fund our full and aggressive participation to prepare for and be at the trial. We need to ramp up quickly as the trial of the century is about to begin in just a few weeks, so PLEASE
make a generous contribution of $25, $50, $75, $100 or more TODAY!
GOD BLESS YOU AND YOUR FAMILY FOR HELPING CLIVEN AND HIS FAMILY PRESERVE OUR FREEDOMS AND LIBERTIES!
Yours in freedom,
Larry Klayman, Esq.
Please Support Cliven Bundy as the Politically-Motivated Obama-Reid Las Vegas Court FINALLY Brings Him to Trial! Cliven's Rights Are YOUR Rights – Make a Contribution to the Cliven Bundy Legal Defense Fund TODAY! Our collective freedom hangs in the balance!
---
---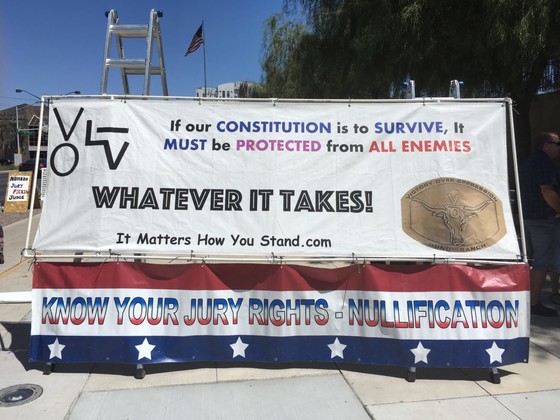 By Tay Wiles, High Country News
The NM Political Report
September 4, 2017
Last month a Las Vegas jury acquitted two men – Ricky Lovelien of Montana and Steven Stewart of Idaho – for their parts in the 2014 armed standoff between the federal government and supporters of rancher Cliven Bundy. The jury found co-defendants Eric Parker and Scott Drexler not guilty of most charges but deadlocked on some. When it comes to trying the Bundys and their supporters, federal prosecutors now have a terrible record, winning just two convictions after two trials of six defendants in Nevada this year. Last fall, Bundy's sons Ryan and Ammon Bundy and five others were acquitted for leading an armed takeover of Oregon's Malheur National Wildlife Refuge in early 2016.
Continue Reading...
---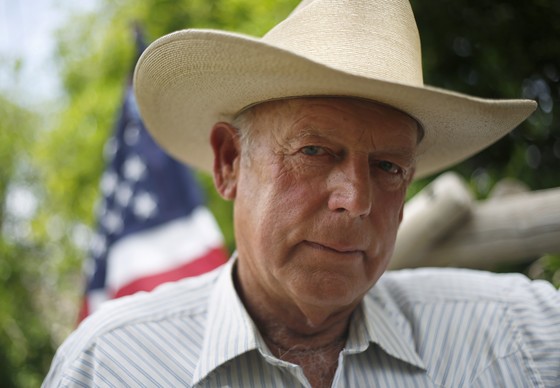 Klayman Asks DOJ Office of Professional Responsibility and Inspector General to Investigate and Order Attorney General and His Staff To Expeditiously Review Bundy Case For Gross Prosecutorial Misconduct and to Take Appropriate Remedial Action to Prevent Injustice
(Washington, D.C., August 28, 2017). Today, Larry Klayman, a former federal prosecutor and the founder of Freedom Watch and before that Judicial Watch, announced the filing of a complaint with the Office of Professional Responsibility and Inspector General of the U.S. Department of Justice (DOJ) concerning the failure of Attorney General Jeff Sessions to uphold his oath of office and his prior commitment to Klayman to neutrally review the on-going Bundy prosecution. This prosecution, as has been widely reported, is rife with gross prosecutorial misconduct by DOJ attorneys under Sessions' supervision and control, such as the acting U.S. Attorney Stephen Mayre. This prosecutorial misconduct has been furthered and compounded by the presiding judge Gloria Navarro, who was recommended to the bench by former Nevada Senator Harry Reid. Reid had previously publicly defamed the Bundys as "domestic terrorists" in transparent attempt to taint jury pools. This complaint, which is embedded below and which can be found at
www.clivenbundydefensefund.org
, is self explanatory.
Those seeking information should contact daj142182@gmail.com or (424) 274 2579.
View Complaint
2017.08.17 – Bundy – Request for Investigation.pdf
2017.08.23 – Bundy – Supp. Request for Investigation.pdf
---
---
By Larry Klayman
The political prosecution of Cliven Bundy, his sons and tens of other defendants is an outrage begun by President Barack Obama and his Justice Department, then run by former Attorney General Loretta Lynch, essentially because Cliven used the word "Negro" in commenting that he and his family could appreciate how African-Americans were mistreated by the federal government, given how this same federal government, under Obama and Lynch, with the aid of former Nevada Sen. Harry Reid, had attempted to enslave them, too. As just one example of how Obama took offense and then threatened Cliven, just watch the video below.
Continue Reading...
---
---
---
Bundy Trial Set To Begin June 5th 2017
---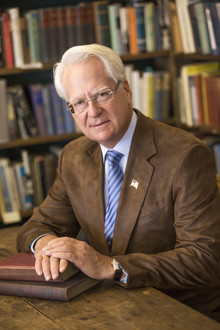 By Larry Klayman
Many of y'all know the story, but none of us as of yet knows the ending. In the spring of 2014, the federal government, led by Sen. Harry Reid's (aka "Dirty Harry") hand-picked head of the Bureau of Land Management (BLM), who he not coincidentally had President Obama appoint, violently invaded the ranch of Cliven Bundy, his wife and his sons and daughters, with its army of armed federal agents and mercenaries, to throw the Bundys off the land they had ranched at Bunkerville, Nevada, for nearly 150 years.
Continue Reading...
---
In reality, unlike those who wish to harm America and the American people, the Bundys care very deeply about this country and what it stands for. They are men of faith and honor who respect the rule of law. They deserve better.
Cliven Bundy deserves a fair and just trial. But that won't come easy, with so much going against him. He will need a competent and capable legal defense. To mount an effective defense, Cliven Bundy needs your strong financial support.
Please consider a generous contribution today to the Cliven Bundy Legal Defense Fund!
---
Maybe you haven't heard that Cliven was, until recently, being held in solitary confinement without bail – unjustly imprisoned for being a God-fearing, honest, law-abiding, hard-working patriot.
I never thought anything like this could happen in America. Yet it is happening to my family! Cliven's even being denied his choice of counsel, and is being treated as guilty 'til proven innocent. In our case, the Constitution means nothing!
That's because everything Obama and his henchmen have charged Cliven with has been completely fabricated – just one more attempt by Obama and Harry Reid to use the government to intimidate us into giving up our livelihood – cattle ranching.
Continue Reading...
---
Media Coverage
| | | |
| --- | --- | --- |
| May 25, 2016 | Las Vegas Review-Journal | Federal judge refuses to get off Bundy case |
| May 10, 2016 | Palm Beach Post | Bundy sues judge in Nevada standoff case, wants her removed |
| May 10, 2016 | WND | Cliven Bundy sues Obama, Harry Reid, Nevada officials |
| May 10, 2016 | CBS Las Vegas | Bundy Sues Judge in Nevada Standoff Case, Wants Her Removed |
| May 10, 2016 | The Oregonian | Cliven Bundy sues to have judge removed in Nevada standoff trial |
| May 10, 2016 | The Guardian | Cliven Bundy sues Obama over 'cruel and unusual' solitary confinement |
| May 10, 2016 | NBC News | Rancher Cliven Bundy Sues President Obama, Harry Reid Over 'Cruel' Treatment |
| May 10, 2016 | Review Journal | Cliven Bundy sues Obama, Reid and federal judge over criminal case |
---
Press conference to follow detention hearing at 10:00 a.m. in Las Vegas federal court (held on court house steps)
Cliven Bundy Sues Federal Judge Gloria Navarro, Senator Harry Reid, Rory Reid And President Obama For Violating His Constitutional Rights
Asks For Dismissal Of Indictment And Release From Solitary Confinement
(Las Vegas, Nevada, May 10, 2016). Today, Cliven Bundy filed a complaint against U.S. District Court Judge Gloria Navarro, U.S. Senator Harry Reid, the son of Harry Reid, Rory Reid and President Barack Obama for allegedly violating his Sixth Amendment Right to Counsel and For Speedy Trial, Eighth Amendment Right Against Cruel and Unusual Punishment (Mr. Bundy is currently being held in solitary confinement), Second Amendment Right to Bear Arms in Self-Defense, and First Amendment Right to Assemble in Self-Defense. The complaint can be found at
www.larryklayman.com
.
The complaint asks the Court to dismiss the indictment against Cliven Bundy and release him from prison and solitary confinement.
Cliven Bundy's attorneys will discuss the complaint following the hearing at 10:00 a.m. on the courthouse steps.
For more information, contact daj142182@gmail.com or (424) 274 2579.
View Documents:
---
WND.com
April 24, 2016
More than two years ago, the nation was spellbound as the family of Nevada rancher Cliven Bundy and other cowboys who supported the patriarch's God-given right to defend his land at Bunkerville, Nevada, stood down a tyrannical Obama administration bent on seizing the Bundy homestead.
The false excuse used by Obama's Bureau of Land Management, or BLM: The federal government, rather than the state of Nevada, owned the land that the Bundy family's cattle grazed on, that the Bundys thus owed grazing fees to the federal government, and, incredibly, that this ranching was killing a so-called endangered species tortoise.
Read More...
---